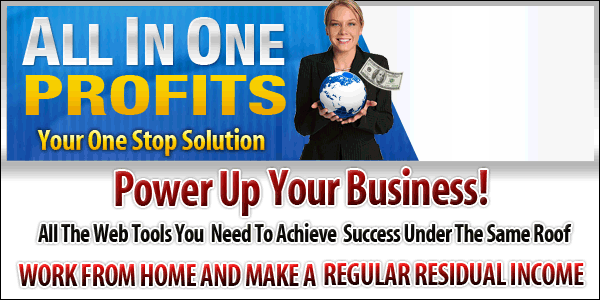 Background and Description
All-In-One-Profits (AIOP) was established back in 2012 and is a registered company in the Netherlands. I have actively been using the site for the last couple of months after having seen it being advertised occasionally throughout the years on various platforms. Looking back, I can kick myself for not learning more about the site sooner.
I am now actively using some of website's marketing tools being offered for free on the platform, and more importantly, continuing to grow a nice additional passive monthly income stream by promoting it.
Benefits of AIOP
There are many benefits and things to like about AIOP. I have listed the most important ones below with some relevant images.
– The monthly recurring compensation plan (explained below) takes the cake as the multi-level system is designed in a way that makes the income potential VERY attractive.
– Text and Banner advertising with unlimited credits. (Great for promoting any of your other online earning opportunities).
– Some GREAT web tools including: 
Auto Responder
Splash/Squeeze maker
URL Tracker
Web Hosting
Website builder
Video maker
Video squeeze builder
Graphics and Web design
Software
Article editing software
Downline builder (Allows users to add their own programs)
Digital Product Library with hours of Video Training
Audio books
eBooks
Membership Costs
Basic level membership = $10 monthly (+ $1.50 processing fee).
PRO level membership = $20 monthly (+ $1.76 processing fee).
Compensation Plan Explained
Basic level membership: You receive $10.00 commission for each of your uneven direct referrals (1, 3, 5…etc). You also receive $10.00 commission for every even (2, 4 ,6…etc) referral from all of your direct referrals below you, which gets passed back up to you. If you thus only have a few active people in your downline, your monthly income potential is HUGE.
PRO level membership: You receive $15.00 commission for each of your uneven direct referrals (1, 3, 5…etc). You also receive $15.00 commission for every even (2, 4 ,6…etc) referral from all of your direct referrals below you, which gets passed back up to you.
PRO members additionally also receive a one-time 'Fast Start Pro' sponsor bonus of $3 for each referral and is always paid directly to the sponsor, and not the upline.
Note: AIOP also provides the unique option of buying 'PIF' (Pay-It-Forward) tickets to pay the first month of a new referral, if that is a marketing strategy you would like to use to get people to join your team for the long-run.
Processors supported by AIOP:
Payeer; Payoneer; Coinpayments; Mobil Pay or Blue Snap (Direct Card Payments), ORU, Electroneum  –>> If you still need to set-up any of the processors CLICK HERE
Notes:
Learning how to use all of the site's features can be a little challenging for people that are new to using similar tools – don't worry there are many training videos. It can also feel a little challenging for some to find referrals (as the site has been around for such a long time), but this fear quickly goes away after finding just that first sign-up (which already covers your own monthly costs). Remember, many people are getting into the online money-making world for the very first time on a daily basis. You also need to do your own monthly payments manually, but don't worry you get an invoice 3-days ahead of time as a reminder every month. Some people enjoy the 'sense of control' this gives them in managing their subscription.
Final Verdict
For anyone looking for another source of passive income, AIOP is a great option. Just one referral will already cover your own monthly subscription, and from there the compensation and pass-up system can see you earn a very good monthly income from the website. Of course the usage of the tools provided on the site itself is also of good value to people looking for these tools, and saves them not having to pay for using similar tools anywhere else.
AIOP will definitely remain one of my long-lasting passive streams of monthly income.
To Join the AIOP Family click here —->> JOIN HERE
If you have any personal experience, or success stories, in using AIOP – please feel free to share them in the comments section below. Would love to hear it!
Click Here For My Top Ranked Work From Home Opportunity!